Auto Accident Injury Treatment at
Brown Chiropractic Center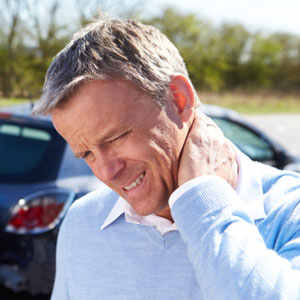 Every day, people in the Greenville area are injured in automobile accidents. We specialize in helping people recover from the resulting injuries. There are many types of pain that can follow a car collision. You might experience one or more of the following:
Stiffness and soreness
Pain radiating to the shoulder and arm
The Effects of an Impact on Your Body
The forces of an impact are absorbed by the body. We're not designed to withstand these powerful forces. If you're hit from the back or front, your neck is pushed into unnatural positions. You will likely have a joint that isn't functioning as it should. If left untreated, it will lead to degeneration, osteoarthritis and of course, pain. The discomfort can last for years, making it of utmost importance that you're examined by an expert in auto accident care.
The Quicker You Get Evaluated, the Better You'll Heal
What you might think is simple stiffness or soreness could actually be a serious soft tissue injury. Too often, we see people who assumed that their pain would go away over time. In fact, it usually becomes worse. As time goes by, your condition will become more difficult to correct. The sooner you are examined, the better your prognosis will be.
Hospital Emergency Rooms take care of potentially fatal issues. If you aren't bleeding and don't seem to have internal injuries, you'll likely be sent home with a muscle relaxer or pain pill. The doctors and nurses there don't always evaluate joint injuries since they aren't life-threatening.
What to Expect
Before you come in for your first appointment, you will have some actions to take, including calling your auto insurance company and opening up a claim. Then, we will have you complete some paperwork. You will meet with Dr. Brown and give him an account of what happened during the accident. We also will get your insurance information.
After he hears the details of what happened, Dr. Brown will perform the following:
Physical examination
X-rays (if necessary )
Range-of-motion testing
Orthopedic testing
Neurological testing
Chiropractic testing
Vital signs
If you're in a high degree of pain Dr. Brown may provide you with therapy that day to help alleviate your discomfort. Dr. Brown will show you your X Rays and explain in detail your injuries and the best way to treat them.
Your Customized Care Plan
Once he's gathered the findings of your exam and X-rays Dr. Brown will present you with a customized care plan detailing the frequency and number of visits to get you on the path to healing.
In addition to providing chiropractic care, Dr. Brown has many therapy modalities on-site. These include electric muscle stimulation, ultrasound, cold laser therapy, non-surgical spinal decompression and traction. These treatment modalities are very effective in treating car accident injuries.
Working With Your Insurance or Attorney
We'll work with your attorney or insurance adjuster to make sure that you receive the care you need. If you would like to find an attorney, we'll be happy to refer you to someone specialized in auto accidents Greenville. You deserve to be free of stress during this trying time, and we'll be happy to take care of the details for you.
FAQ
Will you work with my other doctors?
Yes, if needed, we can co-manage your case with your other physicians to get the best possible results for you.
How long will my care plan be?
As every person is different we won't know that up front. We encourage people to be patient as it takes time for the body to heal, particularly following an auto accident.
If passengers were in the car with me at the time of my accident should they get evaluated too?
Yes, if you had passengers in your vehicle at the time of the accident, it's important that they get checked, too, even if you believe it was just a minor accident.
Read our auto accident blogs »

Book Your Appointment Today
Don't delay getting the attention you need. Contact your Greenville chiropractor today! We have X-ray facilities on-site or can refer you out if you require an MRI or CT scan.
CONTACT US »

Auto Accident Care Greenville SC
| (864) 271-0001