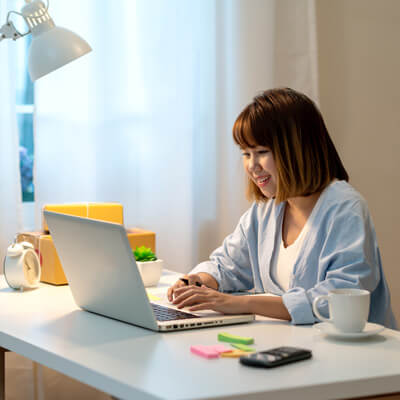 The pandemic propelled more and more people toward working from home, which means more time staying sedentary. From couch slouching while on a laptop to sitting hunched over your desk, it's no wonder so many people have back and neck pain, not to mention posture problems.
"With more and more people working in sedentary occupations like office work, it's important that the workstation you're at is ergonomically set up to not be causing a problem over a long period," said Dr. Brown.
He recommends purchasing a comfortable office chair that's properly set up, so you're not sitting too high or too low, and that it's comfortable for your back in that position.
Dr. Brown has some other tips:
Take Breaks
It's easy to get engrossed in your work and forget how long you've been sitting. You don't want to stay in a chair for long periods. Instead, it's important to take regular breaks where you get up, stretch and walk around. Then return to sitting down and continuing your work.
Get an Adjustable Standing Desk
Another great way to avoid sitting or standing too long is to get an adjustable standing desk that allows you to alternate between the two throughout your workday. By changing your position and posture, you're not always irritating the same areas.
It's also good to have a standing mat by your desk. You don't want to stand on a hard surface for too long. A mat will help reduce fatigue in your feet, knees, hips, and lower lumbar spine if you have some cushioning between your feet and the floor.
Monitor Your Computer
If you're working at a computer, you want to be seated so your monitor is right in front of you. Position it at eye level, and not at an angle where your neck would have to be turned while working. You want your keyboard and mouse set up where the angle on your elbow is comfortable, so your shoulder or elbow isn't in a strained, uncomfortable position.
Mind Your Posture
It's important to be mindful of your posture when at work. You don't want your neck either looking down at a phone, iPad or computer. It's very hard to have your neck in a flexion position for too long, as that will change the biomechanical positioning of your neck over time, which becomes a permanent chronic issue.
You also don't want to be twisting or reaching the same way all the time. It's ideal to be bilateral and a little bit ambidextrous with your movement.
Tune up Your Spine
Whether you have an office job or a physically demanding job, it is always good to get regular chiropractic care. As your Greenville chiropractor, Dr. Brown can ensure that the spine and all the biomechanical joints are lined up like they're supposed to be, to prevent injury.
Give Brown Chiropractic Center a call today to schedule an appointment.
CONTACT US »