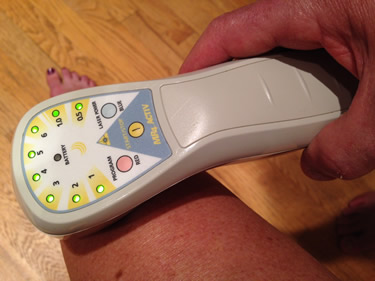 We are experiencing impressive results with utilization of cold laser therapy, says Dr Brown, your local Greenville chiropractor.  Also known as low level laser therapy, the laser uses red and near infrared monochromatic light to stimulate the body's healing process.
The laser is placed on the skin at the site of the injury to penetrate tissue where it increases circulation and increases healing to restore normal cellular function. It does not irritate the skin and is very comfortable. Each treatment lasts just a few minutes. Our laser has been approved by the Food and Drug Administration (FDA) as an effective method for pain relief.
The laser can treat both acute and chronic conditions, such as knee pain, shoulder pain, ankle pain, carpal tunnel syndrome, neck pain, back pain, plantar fasciitis, elbow pain, foot and toe pain, and various sports injuries.
Treatments can be purchased individually as required. We are offering a completely complementary initial treatment to see if this state-of-the-art treatment is right for you.
Contact Brown Chiropractic Center today to make an appointment for a no-charge laser treatment!